SP5 - Topas Ecolodge 3Days, 4Days, 5Days (Recommended)
Option 1 - Ref. HE2A: Topas Ecolodge - 3 days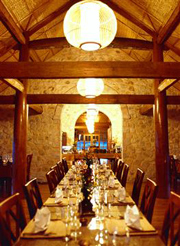 This is a 3 day trip to the north with accommodation at Topas Ecolodge.
The newly developed Topas Ecolodge is located 18 km from Sapa, deep in the Hoang Lien Mountains. The 25 lodges overlook the entire valley with the ethnic minority villages of Ban Ho and Than Phu 400 altitude meters below you.
Your journey will start from Hanoi with the soft sleeper night train to Lao Cai. Once in Lao Cai the next morning your driver will take you to the mountain town of Sapa (1550 m) and then straight to Topas Ecolodge. All together a journey of 2 hours.
At Topas Ecolodge breakfast will be ready for you in the restaurant and your private bungalow will be available for you.
This package has been carefully designed to give you the best opportunity to enjoy the best possible in the north of Vietnam - to explore the deep valleys, breathtaking mountains and ethnic communities of this unspoiled corner of Vietnam.

Day to day program overview:

Day 1: On board the train Hanoi - Lao Cai (-,-,-)
Depart from Hanoi with Ratraco/ TSC night train.

Day 2: Lao Cai - Sapa - Topas Ecolodge (B,-,D)

Arrive Lao Cai. Transfer to Sapa and on to Topas Ecolodge. Over night in Topas Ecolodge.

Day 3: Topas Ecolodge - Sapa - Lao Cai - Hanoi (B,-,-)
Transfer from Topas Ecolodge to Sapa. In the late afternoon transfer to Lao Cai for the night train to Hanoi
Price: 208 US$/person

· The price is based on twin shared room
· Supplement cost for single room is 41 US$/ room
· Extra charge for staying in weekend in Topas Ecolodge: 15US$ per person;

INCLUSIVE:
· 01 night in Topas Ecolodge (twin shared room)
· Transfer by Shuttle Bus Lao Cai – Sapa – Topas Ecolodge – Sapa – Lao Cai
· All indicated meals
· Return soft sleeper in 4-berth cabin on Ratraco or TSC train

1. Meals not mentioned above are surcharged as per policy of Topas and/or Victoria Hotel where guest(s) stay.

2. Cancellation:

2.1. Cancellations are not accepted without confirmation by fax or e-mail by Hanoi HM Boutique hotels.
2.2. Cancellation or changes made 3 full days prior to arrival date will not be charged; after 3 full days prior to arrival date will be charged 50% of the total amount; within 24 hours or no show will be charged 100 % of the total amount;

3. For guests who await to check-in, we highly recommend you order the extra package including All-you-can-eat breakfast and Spa coupon @USD30 per person. This will rejuvenate your body after the tiresome return journey from Sapa by train in early morning.

--------------------------------------------------------------------------------

Option 2 - Ref. HE3A: Topas Ecolodge - 4 days


Day to day program overview:

Day 1: On board the train Hanoi - Lao Cai (-,-,-)
Depart from Hanoi with Ratraco/ TSC night train.

Day 2: Lao Cai - Sapa - Topas Ecolodge (B,-,D)
Arrive Lao Cai. Transfer to Sapa and on to Topas Ecolodge. Over night in Topas Ecolodge.

Day 3: Topas Ecolodge (B,-,D)
Today is at your leisure at Topas Ecolodge. Should you would like to take a half day or full day excursion to the below valley, where the friendly Ethnic Minorities people live, the Lodge`s staff can assist you with tours and information.

Day 4: Topas Ecolodge - Sapa - Lao Cai - Hanoi (B,-,-)
Transfer from Topas Ecolodge to Sapa. In the late afternoon transfer to Lao Cai for the night train to Hanoi
Price: 269 US$/person

· The price is based on twin shared room
· Supplement cost for single room is USD82/room
· Extra charge for staying in weekend in Topas Ecolodge: 15US$ per person;

INCLUSIVE:
· 02 nights in Topas Ecolodge (twin shared room)
· Transfer by Shuttle Bus Lao Cai – Sapa – Topas Ecolodge – Sapa – Lao Cai
· All indicated meals
· Return soft sleeper in 4-berth cabin on Ratraco or TSC train


1. Meals not mentioned above are surcharged as per policy of Topas and/or Victoria Hotel where guest(s) stay.

2. Cancellation:

2.1. Cancellations are not accepted without confirmation by fax or e-mail by Hanoi HM Hotel hotels.
2.2. Cancellation or changes made 3 full days prior to arrival date will not be charged; after 3 full days prior to arrival date will be charged 50% of the total amount; within 24 hours or no show will be charged 100 % of the total amount;

3. For guests who await to check-in, we highly recommend you order the extra package including All-you-can-eat breakfast and Spa coupon @USD30 per person. This will rejuvenate your body after the tiresome return journey from Sapa by train in early morning.

--------------------------------------------------------------------------------

Option 3 - Ref. HEV3A: Topas Ecolodge & Victoria Sapa - 4 days

Choose the best of the north. With the four star Victoria Sapa Hotel in combination with Topas Ecolodge you will have the chance to experience the Sapa highlands in the best possible way.

Victoria Sapa Hotel offers you luxury and comfort while at the same time you can explore the old hill station, Sapa. There are ethnic minority markets in the streets and the option of visiting the near by villages. Topas Ecolodge is located 18 km. from Sapa, deep in the Hoang Lien mountains. Here you will once again experience the comfort of quality accommodation while a the same time enjoy pure nature, peace and unique views over the mountains.

Day to day program overview:

Day 1: On board the train Hanoi - Lao Cai (-,-,-)
Depart from Hanoi by Ratraco or TSC night train. (Optional for upgrading to the luxurious Victoria Express.)

Day 2: Lao Cai - Sapa. Overnight in Victoria Sapa hotel (-,-,-)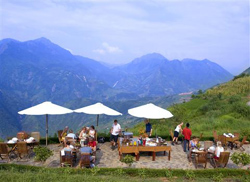 Arrive in Lao Cai early in the morning. Your driver will then pick you up at the train station and transfer you straight to Victoria Sapa Hotel. The day is free to explore the area around Sapa. The Topas Travel Shop in Victoria Sapa Hotel can assist you with tours and information.

Day 3: Sapa - Topas Ecolodge (B,-,D)
After breakfast you depart from Victoria Sapa to Topas Ecolodge. The transfer takes approximately 1 hour. Upon arrival you will check in to your private bungalow.

Day 4: Topas Ecolodge - Sapa - Lao Cai - Hanoi (B,-,-)
Check out from Topas Ecolodge and transport to Sapa. You can enjoy a few hours in Sapa before departure to the train in Lao Cai that will take you to Hanoi.
Price: 284 US$/person
·The price is based on twin shared room
·Supplement cost for single room is USD118/room
·Extra charge for staying in weekend in Topas Ecolodge & Victoria Sapa hotel: 15US$ per person;

INCLUSIVE:
· 01 night in Victoria Sapa hotel (twin shared Superior room)
· 01 night in Topas Ecolodge (twin shared Deluxe room)
· Transfer by Shuttle Bus Lao Cai – Sapa – Topas Ecolodge – Sapa – Lao Cai
· All indicated meals
· Return soft sleeper in 4-berth cabin on Ratraco or TSC train

EXCLUSIVE:
· Personal pocket money
· Insurance
· All services not indicated above

--------------------------------------------------------------------------------------------

Option 4 - Ref. HEV2F: Topas Ecolodge Package – 2D/3N and full day excursion

Activity: Break Away Package

Grade: Easy

Itinerary

DAY 1 : On board the train Hanoi - Lao Cai (-,-,-)
Depart from Hanoi with night train to Lao Cai.

DAY 2 : Lao Cai - Sapa - Topas Ecolodge (B,-,D)
Arrival early in Lao Cai. Transfer to Sapa and on to Topas Ecolodge. Have breakfast upon arrival at Topas Ecolodge.

Full day excursion:

Option 1: to Lech and Moi villages from Topas Ecolodge
Approx: Grade: 3 of 5/ 5 hours walking/ 1 hour lunch.

You commence your walk from Topas Ecolodge along the footpaths of Silver Stone Mount. During the walk you will witness the stunning views of the valleys and rice paddy terraces. At noon you will arrive at the Lech village, inhabited by the Red Dao minority. You will visit the village and have your lunch in a local house.

After lunch, you will continue the walk to a nearby Red Dao village. If it is a school day, a visit to the village's school is the nice opportunity to meet all the children, who can be from Red Dao or Hmong minority, or are at different ages, but sharing the same class room. From the village, you will follow the hill trails up to the main road, enjoying the surrounding breath-taking view of dotted peaks, endless rice terraces and the beautiful Muong Bo river. You will arrive back to Topas Ecolodge after another 15 minute walk on the main road.

Option 2: to Silverstone Mountain from Topas Ecolodge.
Approx. Grade 3 of 5/ 7-8 hours walking
The walk today will bring you to the top of the mountain called Mount Silverstone. Mount Silverstone is beautifully situated behind Topas Ecolodge. Before reaching the top, you are going through the rice paddies of the locals and through thick bamboo forest. Here you will be met by the unique view of the Sapa valley far below. We can see the Hoang Lien mountains which are part of the Hoang Lien National Park, and contains rare plant species and Indochina's highest mountain; Fansipan. Back at the Ecolodge we will enjoy another lovely dinner.

Note for the trip

Inclusive
· English or French speaking guide
· Transport where indicated
· Water and fruit
· Entrance fees
· Lunch

Exclusive
· Transport
· Drinks and beverage
· Insurance
· All other services not indicated above

Dinner and overnight at Topas Ecolodge.

DAY 3 : Topas Ecolodge - Sapa - Lao Cai - Hanoi (B,-,-)
You will have breakfast at the Lodge's restaurant. It is at your choice to take either the shuttle bus departing at 9h00 or at 14h00 to Sapa. Thus, you could reserve your lunch at the Lodge or in Sapa town and the expense is on your own cost.
At 17h30, you will take the shuttle bus to Lao Cai for the night train back to Hanoi.

DAY 4 : Arrival in Hanoi (-,-,-)
The train will arrive in Hanoi around 4h30 am.

Price:

USD255 per person for group of 2 pax
USD250 per person for group of 4 pax

Inclusive:
1 night at Topas Ecolodge (Deluxe bungalow)
All indicated meals (B as breakfast, L as lunch, D as dinner)
Transfer by Shuttle Bus Lao Cai – Sapa – Topas Ecolodge – Sapa – Lao Cai
Roundtrip ticket (soft-sleeper) in a 4-berth cabin on the train Hanoi – Lao Cai – Hanoi
Private full day tour as indicated in the itinerary.

Exclusive:
· Insurance.
· Pre and post trip accommodation.
· Private expenses.
· Drinks and Beverage.
· All other services not mentioned as inclusive.

-------------------------------------------------------------------------------------

1. Meals not mentioned above are surcharged as per policy of Topas and/or Victoria Hotel where guest(s) stay.

2. Cancellation:
2.1. Cancellations are not accepted without confirmation by fax or e-mail by Hanoi Hm Boutiqye hotels.
2.2. Cancellation or changes made 3 full days prior to arrival date will not be charged; after 3 full days prior to arrival date will be charged 50% of the total amount; within 24 hours or no show will be charged 100 % of the total amount;

3. For guests who await to check-in, we highly recommend you order the extra package including All-you-can-eat breakfast and Spa coupon @USD30 per person. This will rejuvenate your body after the tiresome return journey from Sapa by train in early morning.